Career Opportunities in Dumfries, VA
Do you have a true passion for hair and looking for career opportunities in Dumfries, VA? Passions Hair Salon is looking for a licensed stylist to join our team! We're dedicated to providing professional hair care services in a relaxing atmosphere, and pride ourselves on creating a peaceful work environment where team members are truly valued as an integral part of our salon's success.
Seeking Stylist and Braider Intern
We're looking for a stylist, braider and shampoo assistant who's ready to bring their charisma and talent to our salon. We work on all types of hair textures and do all kinds of cuts, hair coloring, styling, extensions, braids and hair care treatments. We also work on natural hair, helping clients bring out the beauty of their natural waves and curls.
This position is full-time or part-time and gives you the opportunity to learn how to braid, wash and style hair. You'll also get a behind-the-scenes look at how to run a successful salon.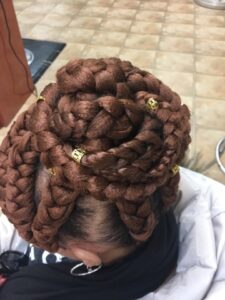 Qualifications
Ability to explain various treatments/services to guests
Customer service experience
Strong teamworking skills
High School Diploma or GED
Previous hair stylist experience preferred, but not essential
About Passions Hair Salon
We've been in business for over 14 years, located in a great area with potential to grow your clientele and pursue your passion for hair. We offer a complete range of hair services, including cutting and styling, coloring, extensions and weaves, children's styling, men's hair, and much more. We have a passion for what we do and a mission to make people feel beautiful!
---
Explore Salon Jobs & Join Our Team!
Passions Hair Salon is Dumfries, Southbridge, and Triangle, VA's premier salon, offering plenty of room for growth for those who share our love of working with hair. If you think you'd be the perfect fit, we'd love to hear from you.
Contact our Jefferson Davis or Fettler Park locations at 703-221-0015 or stop by the salon today and let's talk!